3 Damping Force Adjustment Modes

Damping force adjustment levels can be set in 3 different types; 16-level, 32-level or 64-level. Most TEIN damping force adjustable dampers come with 16-level adjustment. Use of EDFC ACTIVE adds 32-level and 64-level adjustment capabilities within the same range for finer adjustments especially in automatic adjustment modes.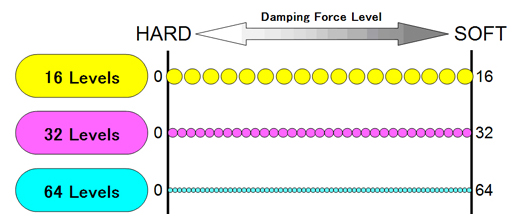 Wireless Control

EDFC ACTIVE features wireless control system for easy installation / wiring. Controller unit is connected wirelessly to motor driver units which control motors, eliminating the need for troublesome wiring such as putting cables through bulkheads and/or placing/anchoring cables inside the car.
With the latest wireless communication technology, 16.77 million ID patterns are available for motor units and hence there is no chance of confusion with other units. Motor driver units are built to provide tougher protection against dust and water, to make it possible to install outside the vehicle.

System Layout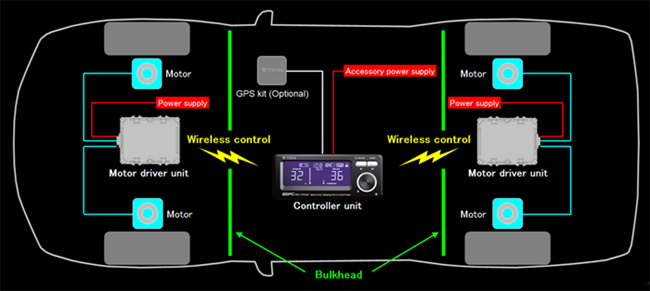 Controller Unit

G-sensor, wireless transmitter and various functions are all fit into a compact controller unit, which has wide 22x60mm display for better visibility.
A wiring gutter on the back of the controller unit offers greater flexibility in positioning the controller unit and the cable.
Optional GPS kit can be connected to the controller unit via a one-touch coupler, without troublesome wiring to speed pulse signal.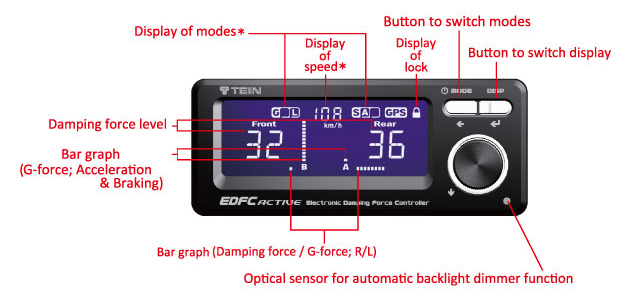 *Speed display and S-Mode are operational only when optional "GPS kit" is used.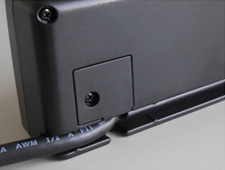 Back side of controller unit

Triaxial Acceleration Sensor

Controller has a built-in triaxial G-sensor, which offers the ability to install controller unit at any desired angle & direction.

Automatic Display Dimmer Function

Brightness of the display can be automatically adjusted according to the brightness of its surroundings detected by an optical sensor. This eliminates the need for connecting cables to vehicle's illumination power supply. This function can be turned off.

One-Dial Operation

Simple one-dial operation is adopted with emphasis on convenient handling. This user-intuitive interface requires only a few basic operations to remember; turn the dial to select/adjust, push the dial to confirm and push 2 buttons above the dial to switch between the different functions.

Display Dimmer Function (level 0 to 3)

Display brightness baseline for automatic dimmer function can be set by the user between level 0 (off), 1 (dark) and 3 (bright).

Switchable Display View Angle (2 patterns)

Viewing angle of display can be adjusted in 2 different angles to offer better visibility even when the controller unit is installed at an angle.

Buzzer Volume Adjustment (level 0 to 3)

Volume of "button sound/buzzer" and "auto-adjustment buzzer" can be set separately between level 0 (mute), 1 (low) and 3 (high).

Lock Function

Operation of both buttons and dial can be locked to prevent operation mistakes.

Self-Diagnostic Function

The self-diagnostic function checks the status of driver unit and/or wireless communication. If it detects any errors in driver unit (disconnection / short circuit) and/or problem in wireless connection, the result will be shown on display.

Ability to Adjust Display Color

In addition to 4 default colors (white, green, amber & blue), fine-tunable custom colors are available.

White
Green
Amber
Blue
Custom Color Example #1
Custom Color Example #2

Various Display Functions

In addition to the usual damping force display (with G-force bar graph on/off), G-force (numerical values & bar graph) can be shown. With the optional GPS kit, vehicle speed, altitude, longitude, latitude, trip meter and clock can be displayed.

Damping Force Level (G-force bar graph OFF)
Damping Force Level (G-force bar graph ON)
G-Force
G-Force Peak Value
*G-force bar graph display is switchable between full scale 0.3G and 1.0G

Display functions only available with GPS kit
Vehicle Speed
(w/ max-hold function & can be shown in MPH)
Altitude

Longitude
(degrees, degrees+minutes, or degrees+minutes+seconds)
Latitude
(degrees, degrees+minutes, or degrees+minutes+seconds)
Up to 10 Trip Meters (can be shown in miles)
Clock (synchronized / compared to the UTC time)

Ability to Control Damper Kit w/ Separate Compression/Rebound Adjustment (e.g. SUPER RACING)

For damper kits with separate compression/rebound adjustment, 2 of existing EDFC controller kits are required. EDFC ACTIVE controller unit is capable of controlling up to 8 motors individually with the use of additional motor driver units and of course has the ability to display both compression and rebound damping force settings. All the functions, including automatic adjustment, are operational for 8 motors.

System Layout